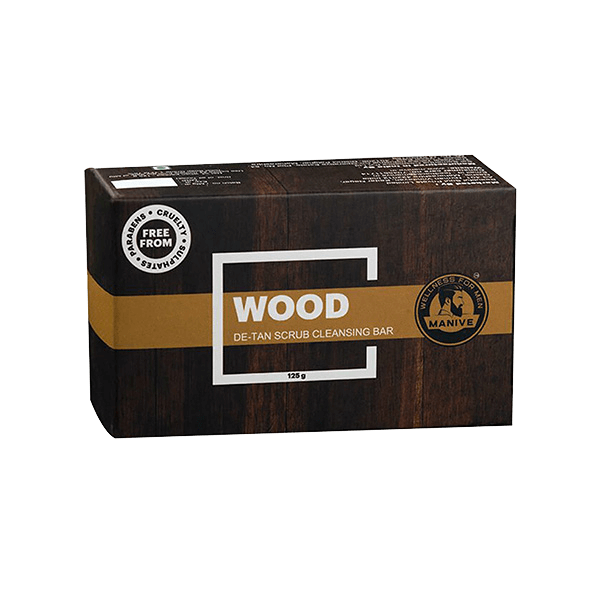 Product Description
---
Manive Wood De-Tan Scrub Cleansing Bar
It's time to feel refreshed and revitalized with Manive Wood De-Tan Scrub Cleansing Bar. Our moisturizing Ubtan and Sandalwood bar has all the necessary ingredients to recharge your skin cells and make them feel cool again. The refreshing botanical scent of this cleansing bar is an invigorating experience for people who need it the most after a long day in the sun.
Indulge your senses with the deep, exotic scent of sandalwood. This gentle scrub cleansing bar will leave your skin feeling clean and not soapy unlike traditional soap. The natural properties will moisturize to prevent dry skin and it is great to use all year round since sandalwood has natural antibacterial properties which protects your skin and leaves you refreshed, revitalized, and smelling heavenly.
Give your skin a natural glow with this invigorating de-tan Sandalwood and Ubtan scrub cleansing bar. Our Manive Wood De-Tan Scrub Cleansing Bar lets you experience the warmth and vitality of sandalwood oil while getting clean. The creamy lather leaves your skin feeling young, healthy, and moisturized a perfect way to leave aging skin behind.
How to Use
---
Step 1 - Run the Manive Wood De-Tan Scrub Cleansing Bar all over your body and apply generously.
Step 2 -Gently massage to work up a rich lather.
Step 3 - Rinse off, pat dry. Moisturize as necessary.
Legal Disclaimer
---
Our products contain oils and butters from natural nuts, seeds and fruit. If you have any allergies please read the product label carefully. We recommend performing a patch test first to ensure there is no reaction. Discontinue if irritation occurs. Our products are made with naturally derived ingredients, which in rare cases may cause sensitivity in certain individuals. If sensitivity occurs, discontinue use immediately.
Reviews
---