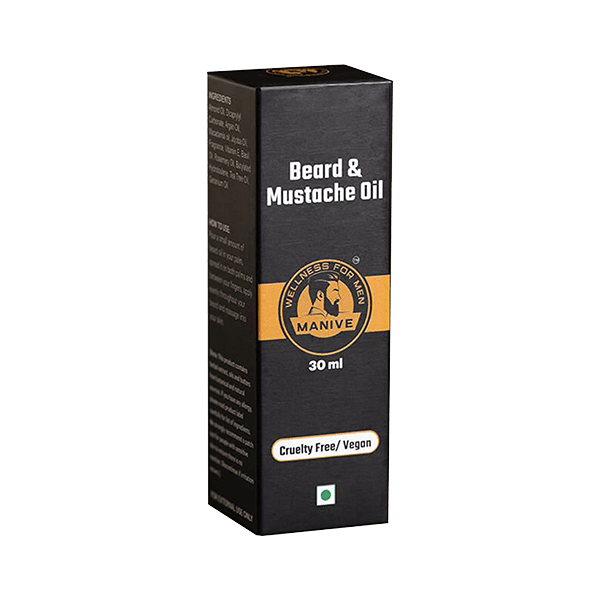 Product Description
---
Manive Beard & Mustache Oil
The Good, The Bad And The Ugly: Officially the best beard oil ever! Whether you're into the classic stubble or that cashmere-like soft long beard, Manive Beard & Mustache Oil is here for you.
No more itching, scratching, or looking like your hair needs trimming. Our replenishing formula is made to hydrate your beard from roots to tips.
Manive Beard & Mustache Oil is a problem-solving beard oil, conditioner, and treatment that will actually tame your beard in seconds. Made with the highest quality natural ingredients like Almond oil, Argan oil, Macadamia oil, Jojoba oil as well as Vitamin E and essential oils of Basil and Rosemary, this oil will impress women too. The women in your life will love this because it moisturizes skin below the beard thereby preventing dryness which can cause itching or scratching. Manive Beard & Mustache Oil washes out funky odor so you won't have to worry about your beard smelling too.
Worried about Beardruff? Manive Beard & Mustache Oil will tame your rugged yet luscious locks and restore softness and shine where there once were greasy tangles. No more itching or scratching due to whatever itch-causing residue may lurk in that manly face. Let Manive Beard & Mustache Oil take control of your beard.
Ingredients
Almond Oil, Argan Oil
Macadamia oil, Jojoba Oil
Vitamin E, Basil Oil
Rosemary Oil, Tea Tree Oil
Geranium Oil
How to Use
---
Step 1 - Use Manive beard and mustache oil daily.
Step 2 - Take a few drops of Manive beard and mustache oil in your palms and run it through your mustache and beard.
Step 3 - The Manive beard and mustache can also be applied post a beard wash.
Legal Disclaimer
---
Our products contain oils and butters from natural nuts, seeds and fruit. If you have any allergies please read the product label carefully. We recommend performing a patch test first to ensure there is no reaction. Discontinue if irritation occurs. Our products are made with naturally derived ingredients, which in rare cases may cause sensitivity in certain individuals. If sensitivity occurs, discontinue use immediately.
Reviews
---